Solari & Stock Lawyers are a progressive Sydney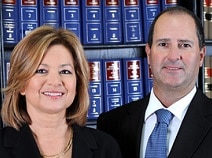 law firm with a strong team led by our two partners, Michael Solari and Riccarda Stock.
The extensive experience of our team ensures that we are able to provide practical legal solutions and clarity in our advice. We take the time at the outset to ascertain our clients desired outcomes in all matters. We develop our strategy, advice and action in order to positively contribute to our clients business. Our business culture is based on personal service and accessibility and building long-term relationships with our clients. We understand that when people approach a lawyer it is often with mixed feelings. Although they need assistance with a legal matter, they also have concerns about the unknowns of the legal system and as to how much it may cost them. At Solari & Stock all members of the firm have been chosen based not only on their skills but also for their genuine desire to ensure that our clients feel that their matters are being dealt with:
in a prompt and efficient manner;
with a goal of achieving the most cost effective solution;
in the same manner as if we were the client.
The philosophy upon which Solari & Stock is based is to give to our client's peace of mind. We take the worry away from our clients. We pride ourselves in thinking beyond the issues in front of us to achieve more than just a legal outcome. We have developed close strategic alliances with leading professionals in related fields (accounting, finance, financial advice and real estate) to provide an all inclusive service for our clients where that is required. We have conducted litigation in all levels of Courts in Australia up to and including the High Court of Australia.
View our Client Service Policy