14 Jun

Reminder: Free Information Session on Collaborative Family Law Tuesday 15 June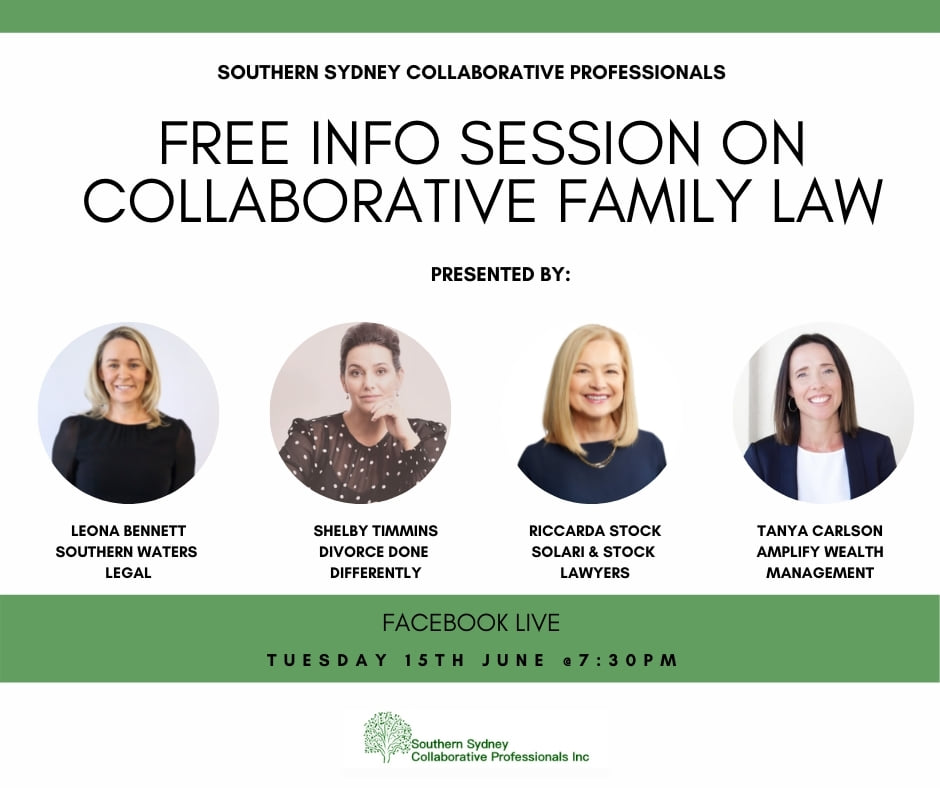 Are you going through a divorce and want to avoid the court process? Are you looking to maintain a respectful relationship with your partner and reduce conflict and stress on your family?
Join the experienced team from the Southern Sydney Collaborative Professionals (SSCP) for a Free Facebook Live, Tuesday 15th June at 7:30pm, where they discuss the benefits of Collaborative Family Law.
Who are the SSCP?
SSCP brings together Collaboratively trained professionals who work in Southern Sydney. Our members include lawyers, collaborative coaches, psychologists, financial advisors and accountants. Our members are focused on helping couples reach respectful resolutions without going to Court.
How do I join?

To join, just click 'going' on the event link below
What if I don't want people to know I'm going?

If you want to keep your attendance private you can select "Going" then click on audience and select "only me", that way only the hosts will know you are there and your privacy will be protected.
Event Link: https://www.facebook.com/events/705840780129993?ref=newsfeed
This event is held in conjunction with:
Southern Waters Legal
Divorce Done Differently
Amplify Wealth
Should you have any questions you can reach us on 8525 2700 or click here to send a message and we will come back to you.